General Information Page
For up to date submissions info, go to our Submittable page by clicking on the link below:
We only take submissions via Submittable. 

You'll need a Southern Legitimacy Statement.
Read the Mule for examples.
Submission to and acceptance by Dead Mule grants us first electronic and indefinite archival rights. All other rights revert to the author upon publication. Please credit Dead Mule as the first publisher if you reprint elsewhere; we like seeing our name in print, too.
We expect your writing to be finished and ready for publication. We don't run it through a grammar check program. Make sure your work is ready; don't ask us to let you edit at the last minute due to a misspelled word or other edit. Send us finished work! But then again, we do realize writing is never finished, edits are ongoing and we get at least two requests an issue, if not more, to use a "newer" copy of the submission. We do try to be kind and use the edited copy… but really, ya'll, try to send us your finished work. Don't second guess yourself or your writing.
For Mule Merchandise:
T-shirts, sweatshirts, mugs and all, go to our CAFEPRESS store. Any money made off the sale of merchandise pays our server/GoDaddy fees. Trust me, we don't mark up anything much, so there's little money to be made. That said, buy a mule shirt, be a cool kid! We occasionally have writing competitions for Dead Mule Mugs. Here's the link:
Now, for some real information about the Dead Mule, some of the restored database information is easily accessed by traveling over to:
Okay then, see yall in the funny papers. Be sure and read our about page.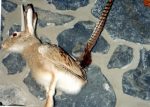 -Valerie MacEwan
"No good Southern fiction, poetry or essay is complete without a dead mule."
Celebrate the Mule! Celebrate the Jackalope, a Southern friend to all. Kinda' like a bullfrog, it gets into your memory and burrrreeeeps its way out.
From the original Mule Statement of Reason, 1996:
We appreciate all the quirks, follies, and faults that have brought the region to where it is today.
If our beloved "below the Mason-Dixon Line" self gives way to the influences of a status quo world which requires all people to be of one idea "to walk in lock-step with all others" — we cease to be The South. (Things have come a long way since 1996 but our fairness and willingness to publish any writing worth reading has not changed in 26 years)
Simply put "Let us celebrate the individual". The South revels in individuality. Freedom and the right to be southern. It's not a curse-word, or a curse. It's just little old us. Not one race, not one religion, and certainly not just one cause! Personally, our political views and our social commentary need not be expressed here, nor do we publish controversial or questionable writing for the most part.
The South contains all sides of all arguments. Damn sure many of them are wrong but we're not here to argue, we're here to celebrate that which is good in the southern climes of anywhere.
Help the best of The South stay as is. Let the bitter past be studied not re-lived… and hopefully you can find us delightful.
Remember, please, we are not simply a bunch of back-ass swamp-dwelling moonshine-drinking raccoon-hunting mother lovers. We are " arguably" the last true bastion of individuality left in the US. The Dead Mule Southern Legitimacy Statement is about describing those things which are uniquely southern, wherever you are. We don't own a confederate flag, btw, and we're actually quite liberal (hush, don't tell the neighbors). Shucks.
We are Carolina Dogs and Jumping Mules, raccoons and possums, and all things that go bump in the night. All the humidity makes us really testy at times but sweet tea heals all wounds.
*Interesting to note how many "southern online literary journals" have echoed this original premise. We've been here since 1996, so we can truly claim to the be first to put the south online. Welcome to our Mule.